Hosted by Renowned TEDx and Global Speaker, Gina Maria Buckney.
Learn how to hone the super power of public speaking to achieve excellence in your career with our public speaking online workshop.
Read about Gina
The Next Public Speaking Online Workshop is Sold Out - 4th October 2023, 19:00 - 20:30 (GMT)
Reserve your seat on our November Workshop to take your career and personal power to the next level.
Master The Skill Of Public Speaking With A Public Speaking Online Workshop
Learn the best tools and techniques from an expert and you'll take giant leaps toward in your career.
Purchase now
Public Speaking Skills Are In High Demand
Check out these mind-blowing stats about public speaking. Is it holding you back or advancing you forward?
of the population fears public speaking
75%
claim public speaking improved career opportunities
61%
said public speaking helped develop critical thinking skills
97%
Our Public Speaking Online Workshop
Are you tired of feeling overlooked and unheard in your professional life? Are you eager to break free from the limitations of self-doubt and unlock your true potential?
Look no further than our transformative Public Speaking Online Workshop. Designed to empower individuals like you, this workshop is the key to overcoming your biggest career challenges.
Led by the esteemed Gina Maria Buckney, a globally recognized TEDx Speaker, you'll have the exclusive opportunity to learn from an expert who has captivated audiences worldwide.
This Public Speaking Online Workshop Is For You If You
❌ Struggle to speak in public
❌ Fear speaking up in meetings
❌ Lack confidence in interviews
❌ Get shy and flustered when asked questions
❌ Or, generally struggle in a public or business setting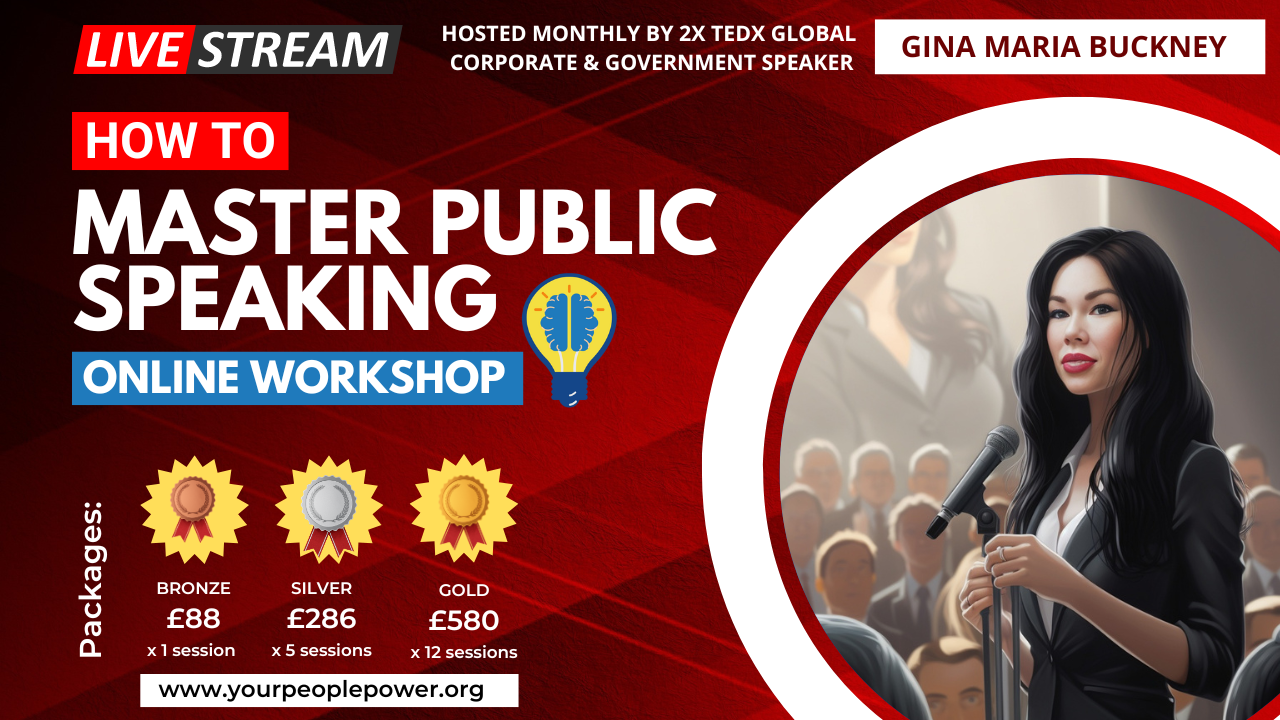 Gain invaluable insights, master effective communication techniques, and leave equipped with a powerful toolkit and newfound confidence that will propel you towards success. Don't let your fear hold you back any longer – join Gina today and embark on a journey of professional growth and achievement with our Public Speaking Online Workshop.
You Will Learn And Understand How To
✅ Increase your confidence
✅ Improve your personal power
✅ Calm your nervous system
✅ Increase your gravitas to get that promotion
1. Is the workshop in person or online?
This particular course is a public speaking online workshop and can be experienced in the comfort of your home, or location of choice. You will need a PC/Laptop and a quiet room.
2. How much does the workshop cost?
The price of this workshop is £66 per person. An early bird discount is available for people who purchase seats early.
3. What system is used for the video feed?
We use MS Teams to host our events. You will need to download the application. There is no cost to download as the free version of teams will allow you to join this workshop.
4. How long is the workshop?
5. What is the date for the next workshop?
The next workshop will take place on Wednesday 19th July, at 19:00-20:00 (BST).
Ready to improve your speaking skills?
Register below, or contact us for more Information on our public speaking online workshop.