2023 Summer Internship Programme: A Pathway to Academic and Professional Excellence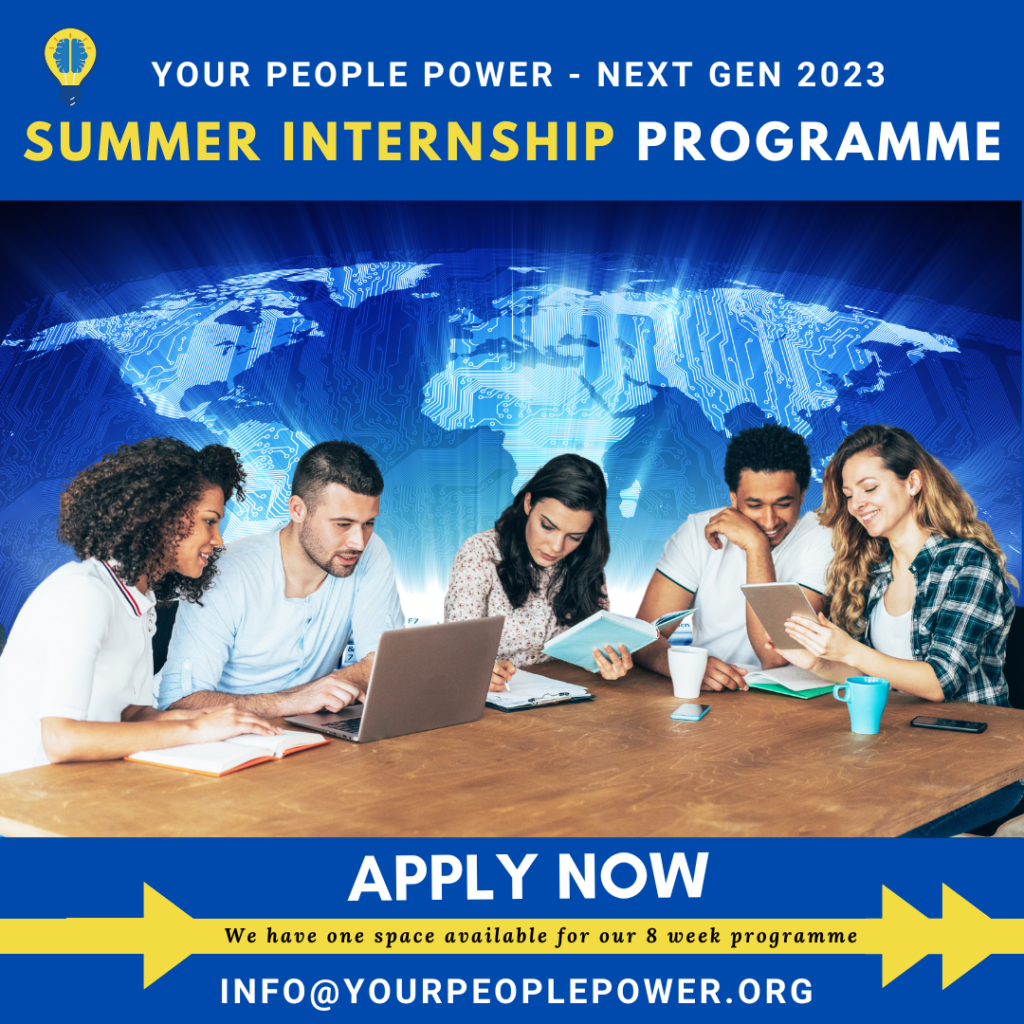 Are you looking for a 2023 Summer Internship Programme?:
Are you a motivated graduate eager to kickstart your career with a solid foundation of success? Look no further! Your People Power, the esteemed organisation focused on workplace performance and wellbeing, is thrilled to unveil its highly coveted 2023 Summer Internship Programme. Led by the visionary founder, Gina Buckney, this transformative opportunity is tailored to provide aspiring individuals with invaluable experience, setting them on the path to achieving outstanding academic results.
Supporting the Next Generation:
At Your People Power, we are committed to empowering the next generation of leaders. Under the unwavering leadership of Gina Buckney, our organisation has made significant strides in nurturing young graduates and helping them unlock their full potential. Recognising the significance of mentorship and guidance, Gina has dedicated her time to ensure ambitious individuals receive the support they need to excel in their chosen fields.
Passion for Supporting Young Graduates:
Gina Buckney's passion for supporting young graduates is deeply rooted in her own experiences as a fresh-faced professional entering the workforce. She has overcome numerous challenges and obstacles and understands the importance of providing a nurturing environment for young talent to thrive. Gina's personal journey has fueled her commitment to offering guidance and mentorship to those embarking on their professional paths, ultimately helping them achieve exceptional academic achievements and secure prestigious placements.
The YPP 2023 Summer Internship Programme:
The eight-week placement will commence in early July until late August. The Your People Power Summer Internship Programme offers a transformative opportunity for individuals aspiring to exceed expectations in both academia and their future careers. By participating in this esteemed internship, you will have exclusive access to Gina Buckney herself, a renowned transformation expert and the driving force behind Your People Power's success. This years cohort will enjoy part-time working, up to 16hrs per week, including a 4-day work-week, with either Monday's, or Friday's off.
A Track Record of Success:
Previous candidates who have participated in Your People Power's 2023 Summer Internship Programme have achieved remarkable academic success. Many have graduated with first-class honours degrees, showcasing their dedication and commitment to excellence. Moreover, some of our exceptional interns have secured placements at esteemed institutions such as the renowned Wharton School of the University of Pennsylvania, demonstrating the calibre of talent nurtured within our internship programme.
Your Personal Capabilities:
We are looking for a go-getter, someone who can hit the ground running and who can learn fast, someone who is confident talking and working with others, but is also able to self-motivate and use their initiative to get tasks done.
Your Technical Capabilities:
We don't discriminate on course subjects, so are open to candidates with varied course backgrounds. We just ask that you can navigate a computer well and are efficient with MS Office and email. We will teach you the rest.
Seven Benefits of Participating in a Summer Internship:
1. Personalised Mentorship: Interns receive direct one-on-one guidance from Gina Buckney, benefiting from her expertise and insights that have guided previous candidates to achieve academic excellence.
2. Invaluable Industry Exposure: The internship immerses you in real-world scenarios, providing hands-on experience within a professional setting. This exposure enhances your understanding of the business world and prepares you for future endeavours.
3. Extensive Networking Opportunities: Engage with a diverse network of professionals and industry experts, building connections that can lead to collaborations, job opportunities, and lifelong professional relationships.
4. Skill Development: Engage in tasks and projects aligned with your interests and goals, allowing you to refine existing skills and develop new ones. Your People Power's supportive environment fosters personal and professional growth.
5. Enhance Your CV: Including a Your People Power internship on your academic profile demonstrates your commitment to personal development and your aspiration for academic excellence, earning the respect of leading universities and first-class graduates.
6. Confidence Building: Through exposure to challenging assignments and professional interactions, you will develop confidence in your abilities, resilience, and adaptability—essential qualities for success.
7. Comprehensive Understanding of Workplace Dynamics: Gain deep insights into how successful organisations operate, equipping you with the knowledge and skills to navigate complex workplace dynamics in the future.
Take the Next Step:
To explore the remarkable opportunities that await you in the Your People Power 2023 Summer Internship Programme, reach out to the team today. Gina's expertise and dedication to your success will empower you to achieve academic excellence and pave the way for a thriving career. Don't miss this extraordinary chance to unlock your potential and secure a brighter future. Apply now and embark on a transformative journey towards academic and professional distinction.
Apply Now:
To apply for the 2023 Summer Internship Programme send your CV and a cover letter to our team, or contact us for more information. Applications close on the 30th June 2023.