THE BEST 9 EMPLOYERS PRIORITISING EMPLOYEE ENGAGEMENT IN CANARY WHARF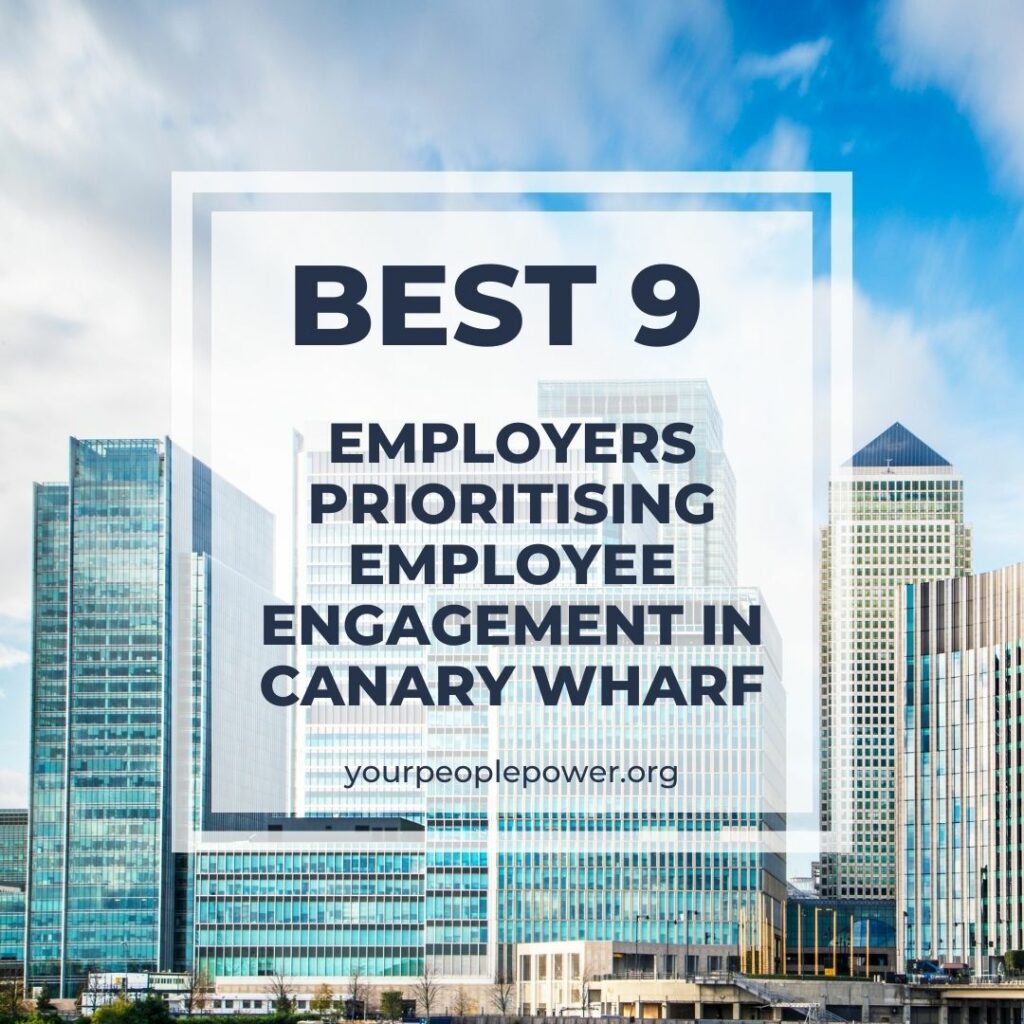 Employee Engagement in Canary Wharf
Canary Wharf, London's bustling business district, houses some of the world's most prominent companies. Within this thriving corporate ecosystem, several companies are increasingly recognising the critical role employee engagement plays in their success. We've curated a list of the top nine employers prioritising employee engagement in Canary Wharf, offering a glimpse into their exceptional practices.
The Top 9 Companies For Employee Engagement in Canary Wharf
Barclays understands that employee engagement is crucial for an organisation's success. Their initiative, 'Engage,' provides a variety of resources and platforms for employees to connect, learn, and share ideas. Barclays' commitment to personal and professional development fosters a sense of empowerment, ensuring consistent engagement.
Thomson Reuters focuses on inclusivity to boost employee engagement. Their 'Inclusion Network' enables employees to connect, while bi-annual Employee Insight Surveys gather valuable feedback. Flexible work arrangements and career mobility opportunities further contribute to creating an empowering environment.
J.P. Morgan values open communication as a tool for engagement. The annual 'Voice of the Employee' survey gathers insights about the work environment, leadership, and individual roles. Their innovative 'Career Development Day' encourages employees to explore growth opportunities within the organisation.
KPMG's engagement strategy centre on career development and wellness. Their 'Learning at KPMG' program equips employees with resources for skill enhancement, while their robust wellness program emphasises a holistic approach to employee well-being.
HSBC's 'Together We Thrive' initiative fosters an open and empathetic culture, driving employee engagement. It promotes inclusivity by encouraging employees to share their stories. Additionally, the 'Future Skills' program prepares employees for future challenges, further boosting engagement levels.
Citi Group's 'Life at Citi' initiative incorporates employee engagement into all aspects of work life. Resources for growth, including leadership programs, mentoring schemes, and networking groups, are readily available. The annual 'Global Community Day' enhances engagement by encouraging collective community service.
Morgan Stanley's 'Healthy Living' initiative focuses on the overall well-being of employees, integrating physical and mental health, financial wellness, and work-life balance into their engagement strategy. The 'Employee Networks' program fosters a sense of community within the organisation.
At Moody's, employee engagement is closely linked with recognition and development. Their 'Bravo' program allows peers and managers to recognize employees for their contributions, fostering a culture of appreciation. Their 'Career Journey' program provides resources and tools for employees to map out their career progression, contributing to sustained engagement.
Clifford Chance believes in empowering employees through knowledge and skills. Their 'Academy' offers an extensive range of courses and resources for professional development. They also emphasize mental health through their 'Mental Health and Wellbeing' initiative, providing resources and fostering an environment where employees can openly discuss mental health issues.
These employers exemplify the value of prioritising employee engagement in Canary Wharf. By creating inclusive cultures, offering development opportunities, encouraging open communication, and focusing on overall well-being, they stand out as leaders in their respective industries. Their strategies underscore the importance of considering employees as vital assets, encapsulating the concept that 'Your People Are Your Power.'
WORKPLACE ENVIRONMENT ENHANCEMENTS
Creating a healthier work environment can include ergonomic office furniture, standing desks, relaxation or meditation rooms, provision of healthy food options, and ensuring a safe and clean workspace all helps improve employee engagement in Canary Wharf.
Barclays has a 'This is Me' campaign which aims to reduce the stigma associated with mental health issues, creating an open and supportive workplace culture.
KPMG offers the 'Be Mindful' program for all staff, which includes mindfulness training to help manage stress and improve focus.
HSBC has the 'HSBC Healthy Minds' program which provides employees with mental health resources and confidential counselling services.
Clifford Chance provides an Employee Assistance Programme offering confidential counselling and mental health support, alongside wellbeing seminars on topics like nutrition, resilience, and mindfulness.
Workplace wellbeing programs, such as those implemented via employee engagement in Canary Wharf and across the UK, have evolved beyond mere 'perks' and are now viewed as integral to an organisation's strategy to attract, retain, and nurture a healthy and engaged workforce.
We cordially invite organisations that are making substantial strides in fostering workplace wellbeing and employee wellness to become the focus of our forthcoming features. If your enterprise stands out in its commitment to employee wellbeing, kindly communicate with our People Power team at your earliest convenience or engage with us via our contact form. We find great pleasure in gaining insights into and disseminating the successes of companies committed to nurturing their employees. We trust you found our article highlighting the premier employers for employee engagement in Canary Wharf informative.
Our team stands poised to assist, eager to transform your organisation's challenges into rewarding successes. Discover how we can help unearth the latent potential within your business while simultaneously nurturing the growth and wellness of your workforce, your most valuable asset.
We take great interest in acquiring knowledge and publicising the accomplishments of enterprises that are exceptionally supportive of their employees. We trust that you found our piece on the leading employers for wellbeing in Leeds insightful, and you enjoyed this article on employee engagement in Canary Wharf. For further details about our collaboration, kindly follow this link Your People Power.