The Summer Global Internship Program 2022 Countdown is on!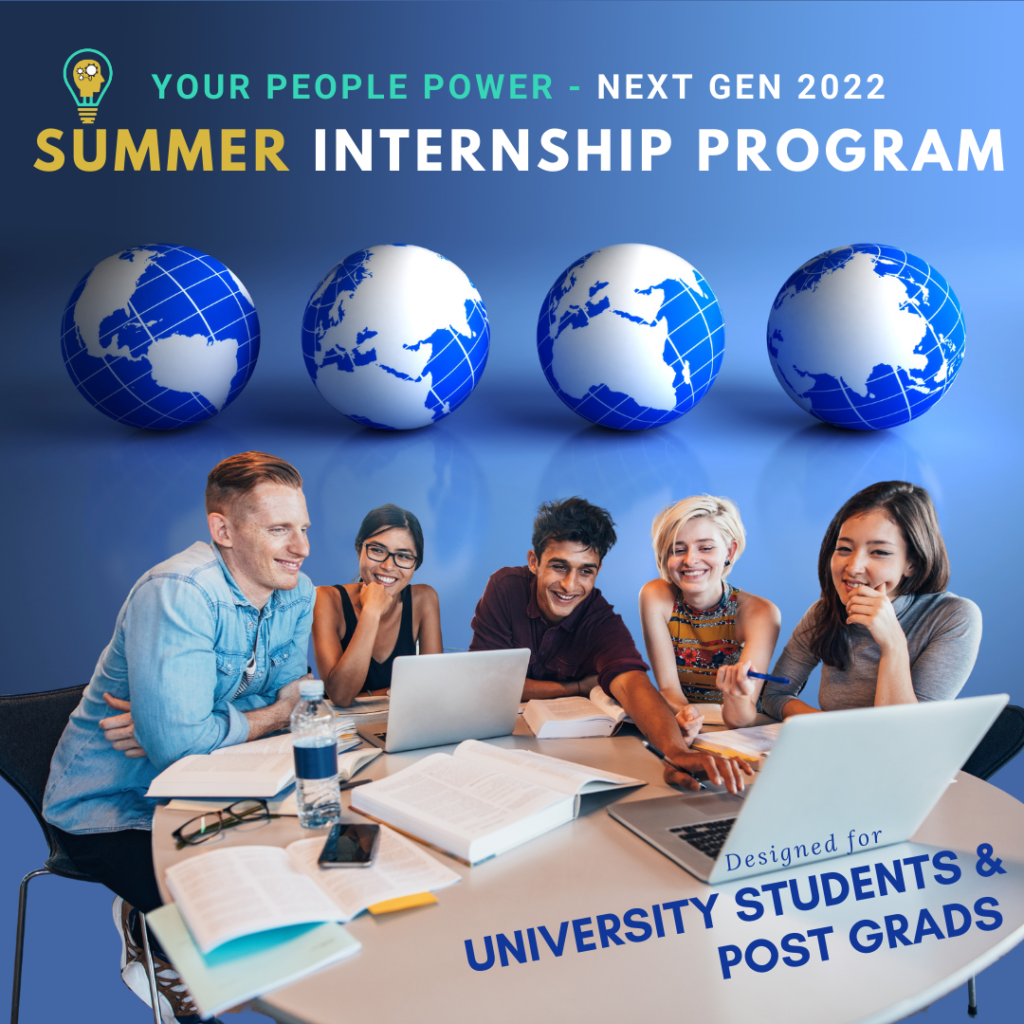 Our new SUMMER GLOBAL INTERNSHIP PROGRAM 2022 is set to commence on the 20th of June.
Each year we take on a new cohort of global interns to work with us at YOUR PEOPLE POWER. The interns are put through their paces, learning what it is to work in an agile way, whilst accumulating many technical skills and the critical POWER SKILLS required to thrive in the new working world.
The program is spearheaded by our Founder and Director, Gina Maria Buckney, who is highly involved in the students/graduates learning and development. Each intern will have a tailored roadmap to success, and our mission is to help prepare them for the world of work and gain FIRST-level results in any upcoming exams.
Previous internships have seen us take in students from universities worldwide (Paris Business School, to the Ivy League level University of Pennsylvania), which can mean students get to span different timezones to work as buddies with their peers. Flexible working is in place, and our organisation ensures all interns have one wellbeing day per week, using the entire working day to focus on themselves. We encourage students to use that time to enhance their minds and bodies or simply do something fun and uplifting. It's a challenging, fast-paced working environment, so if they just need a rest day, then so be it. The POWER is in their hands on that day.
What are internships?
Put simply, an internship is a period of paid work experience that can last anywhere between one and four months.  Internships usually take place during the summer when universities are not in term-time, and they are aimed at students who are in their second or third year of university. 
Interns work full-time in order to get experience in a particular sector and find out what it's like to work for a specific company. Much more than just making coffee, the opportunity to gain an insight into different areas of the professional environment, including:
Company culture, values and vision
Operating high tech software and equipment
Collaborating across different teams and locations
Companies organise these schemes to spot future talent and find potential candidates for their graduate roles. The Institute of Student Employers revealed that 60% of former interns are offered full-time graduate roles. 
So what are the benefits to students who take on a Summer Internship?
"Employers are much more likely to hire college graduates who have had an internship over students who may just have a college degree."
Summer internships allow you to explore your interests and see firsthand how certain industries operate so you can get a better idea of what you might like to pursue as a career. Don't work your way through four years of college majoring in business without spending some time in an office to see if you enjoy it.
Some summer internships pay! While many internships are unpaid, you can find summer internships in many fields that come with decent compensation.
Interning can help you develop important skills that will enhance your resume, such as learning how to create a business post for Facebook, use an Excel spreadsheet, or get comfortable with scheduling software. Plus, you'll learn interpersonal skills as well, such as how to ask a boss for help, how to interact with coworkers in a professional manner, and how to hit deadlines — all of which are invaluable in any future job.
Summer internships enable you to start networking with professionals who can write a college recommendation letter or connect you with job opportunities in the future.
Amy Bamford, a graduate from the 2021 cohort, now working in Digital Media and Marketing, passed her degree with flying colours. Here's what she had to say  –
"I just wanted to let you know that I got a first in my dissertation. Thanks so much for all your help! I used some of the information you gave me ……. to conduct further research in my discussion, and I definitely feel like it helped further my grade.
Watch this space, as we introduce some of our new interns over the coming weeks. We are excited, are you?