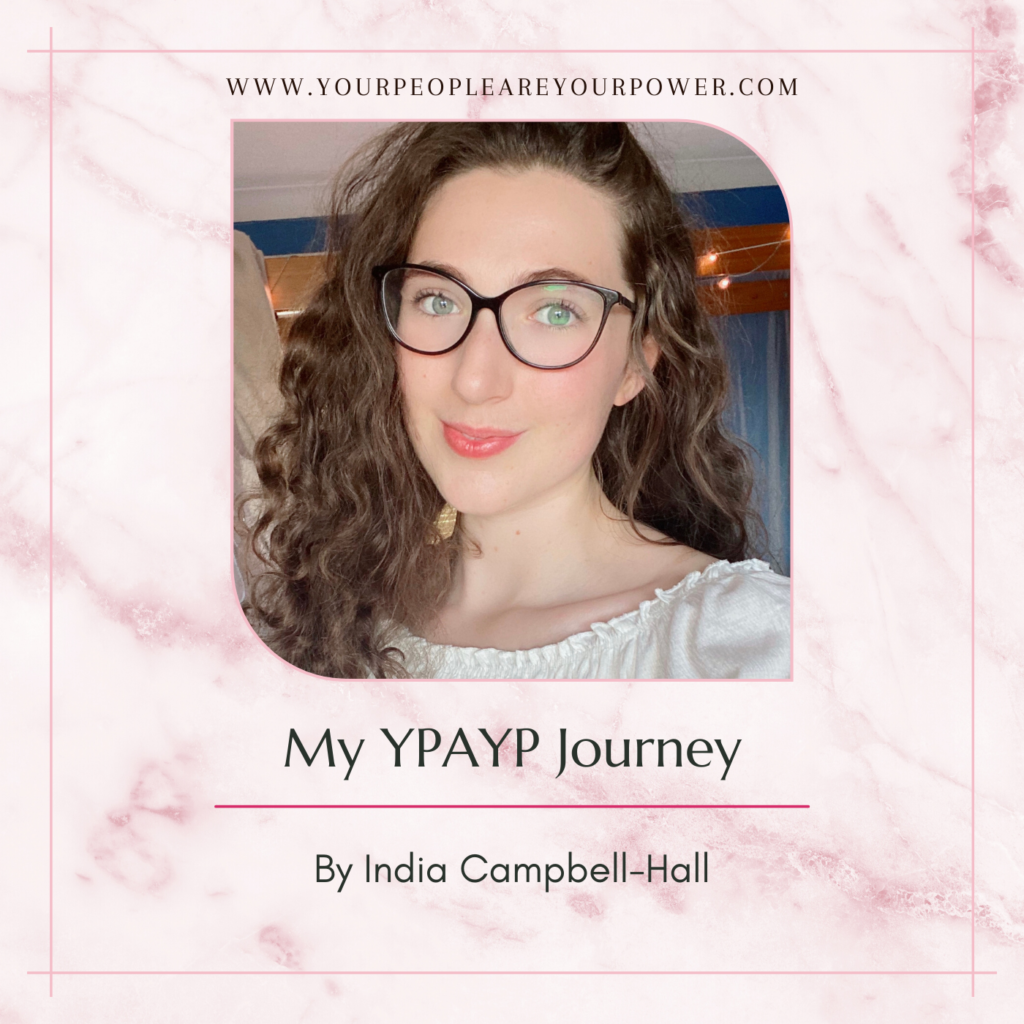 It was so lovely to have been awarded a Santander Scholarship from the company Your People Are Your Power after having interned with them for a number of months. I was initially part of the Sales Outreach Team but later branched out into the role of Creative Content Assistant which later developed into a position with Journals For Life as interior content Design Lead and the Journals For Life Instagram Creative Content Manager. Company Director Gina Buckney notes
"India has a can-do attitude that money can't buy" and "we awarded her the Santander Scholarship because of her initiative by offering to do an unpaid internship with us when we offered her a freelancing role."
My journey interning for YPAYP began when I was looking through the University of Chester Careers Portal for upcoming workplace opportunities. One post caught my eye in particular: the roles Creative Writer, Social Media Manager, and Sales Outreach. My dream has always been to work in the creative advertising industries using my copywriting skills, keen eye for colour coordination and design, interpersonal communication, team player flair, strong public speaking, and endless creativity for brainstorming advertising campaigns, product launches and creating televised ads. It has also always been my dream to be a writer and that's where my blogging skills came in for our company website and creating the new journal and social media content. The role was initially freelance, which I wasn't sure about as I had never freelanced before and felt out of my depth. I read through the experience and skills required and that gave me the push to apply, I wasn't sure if I had all the skills they were looking for but I figured it was worth a shot. 
YPAYP Virtual Assessment Centre experience
I was delighted to be invited for an interview with the Company Director and Team Lead at YPAYP. After being successful at the interview stage, I was then invited to join a two-day virtual assessment centre event. I met the other candidates for the different roles within the company and learned about project management and creative team decision-making through collaborating with fellow assessment centre members. Our brief was a lot like Dragon's Den (which sounded like fun and right up my street). My task was to pitch a logo design (I chose Prezi for presenting design prototypes based on my team's ideas and feedback) and to decide on the company's USP and slogan for an imaginary Doggydare hotel service. 
After completing two days at the virtual assessment centre, I was pleasantly surprised to be offered the role of Sales Outreach. I wasn't sure what that was, but I had been told that my interpersonal communication, networking, and quick-thinking would make me a good fit. What I didn't realise is that the role required a high level of Excel spreadsheet skills, accuracy, contact gathering, and email etiquette. I knew that I needed to let the Company Director know that I felt I didn't quite have the skillset they were looking for, but I didn't want to miss out on the opportunity to gain valuable skills and industry-relevant work experience. 
How I branched out into my new role
I've learned that creative problem solving and thinking fast on my feet is one of my main strengths alongside brainstorming, designing visual content, creative copywriting and public speaking. I had a long think and decided on letting the Company Director know that I needed to develop my skillset and industry knowledge. I offered to intern for free for the company so that I could receive training to better perform in my role. After doing sales outreach for a while, I knew I could really help with the Journals For Life Instagram (which was still under development) using all my creative skills. I asked if I could branch out into the role of social media assistant. YPAYP was happy for me to do that as long as I buddied up with one of the more experienced team members in the role and had gone through the Canva graphic design training. I have learned some invaluable skills from that role. I started off being asked to create the Canva graphics for the company blogs that I and the other team members had written. It took some time to find my feet with knowing what the company was looking for style-wise. I was given the opportunity to collaborate with the new intern and creatively brainstorm a digital marketing strategy for Journals For Life and for the new journal product launch. 
How I have grown from the placement 
It has been a fantastic and challenging opportunity to be part of the Santander Scholarship scheme. I have had the chance to focus on industry-specific knowledge and experience. I have developed several skills: how to manage a company's social media platform and create visual content, lead graphic design and collaborate with the Company Director for the latest journal, publish and write blogs, sales outreach, digital marketing, and professional networking. It was interesting learning more about the steps, self-discipline, and habits of a successful SME and the time, energy, and actions that go into starting your own company. I feel like I have experienced a great deal of personal and professional growth. I have also learned the importance of finding out how a company likes to work and their preferred media for communication.  Clearly giving and interpreting instructions is essential when you are doing a virtual internship and it is especially important for interns who are neurodivergent e.g. have dyslexia. A common misconception about dyslexia is that it is about reading and writing but it also has to do with auditory phonological processing, short-term memory, processing information or instructions, planning, time management, and organisation. It takes a lot of patience and understanding to make a virtual internship work as communication is dependent on technology. The likelihood of misinterpreting instructions can be quite high, so that is something to be particularly mindful of for interns and potential employers.
 My advice to employers with employees/clients with dyslexia in a virtual workplace setting
I really appreciated how the company director scheduled a 1-2-1 with me so that I could better explain my kind of dyslexia and how I process things, it made such a difference for both of us to understand our different lenses and how we can better collaborate so that everything was crystal clear on both sides.
My advice to employers would be to ask your team member to go into depth about what they struggle with because of their learning challenge and what tools they need so they can process information and instructions in the most effective way. Colour coding and screen sharing for giving demos about company technology or how to perform a new task can be really helpful. I find I need to see and hear the information so I can process it, even better if I can do it as the person is talking me through how to perform a task step by step. We need instructions broken down and we need to reiterate those instructions broken down and write them down so that we can remember all the details. Google Calendar meetings in blocks of colour can be a game-changer for confused staff about zoom meeting times and dates. We also need more time to complete a task so if it is given to us much earlier than the deadline that can help us out a lot. 
What I have learned from my internship experience
I have learned how to better organise myself and see a project through to completion. It's worth taking the time to get the proper training for company software you are less sure of and voicing what skills you need help developing. I've enjoyed getting to know the team through making decisions about creative icebreaker activities and helping new interns gently integrate into the team. I didn't realise I would enjoy visual graphic design as much as I have until I asked if I could move into the role of social media assistant and then progressed to Design Lead and JFL Instagram Creative Content Manager. I had a ball designing the cover and interior for the newest journal and collaborating on creative brainstorming with Company Director Gina Buckney.
There's nothing more empowering than learning what you love doing and what your strengths are, they can surprise you! 
Advice for fellow interns
My advice to other interns would be to pay attention to the kind of tasks you enjoy as well as your strengths. Pay attention to which tasks take longer to complete and which skills might need more training. Knowing the kind of environment where you are happy makes is key when you're pathing your early steps for your future career.
Top tips
Speak up about the hours you can realistically do and how long it will take you to complete a deadline (especially when you're juggling your studies)
Speak up if you need more training
Speak up about the work you enjoy (especially if it's one of your strengths) and the work you struggle with and speak up if you have a learning difficulty and explain to your employer how you best process instructions and information so that you are both on the same page from day one
Let the Company Director know what you would like to get out of the internship-skills/roles/experience
Ask the company director of their expectations of you
Ask which tasks are a priority
Find out the preferred communication media and style of the company
Understand and learn how the company like to work their system
If you don't yet have a skill that you need for the role, ask for training and offer to work for free for a set time period
Get to know your team and ask for feedback on any decisions you're on the fence about so that they can get involved
Because of my dyslexia, I have learned how to use Google Calendar to my advantage for scheduling meetings and tasks, the Pomodoro focus technique works wonders for busy, creative minds!
Final thoughts
It has been a pleasure to work for YPAYP and collaborate with the team. It has been a real time of growth and stepping up to the plate. The biggest challenge by far has been working hard towards getting the Journals For Life books into the shops. YPAYP was also featured in a wellbeing magazine (written by the talented Rose Evans), that was a lovely thing to see! The university Santander Scholarship team have been amazing too with helping me find my feet in the new role and coaching me through what I enjoy doing and what my strengths are, some of them I didn't know that I had. The University of Chester's Career and Employability Team is second to none with supporting us in our career ambitions and goals and if it wasn't for them I wouldn't be where I am now. Other honorable mentions are Gina Buckney, Federica Gambelli and Ylenia who were incredible with helping show me the ropes and ease into the team. They have also been amazingly patient and understanding about my studies and skill-building. Our newest intern has been a joy to work with and I have learned so much from her in terms of digital marketing and creative brainstorming for product campaigns, it will be exciting to see where their career journey leads.
I would recommend interning with YPAYP for a huge career and personal growth experience, all I will say is be prepared for high expectations in a fast-paced environment but as long as you're up for the creative challenge, you'll fit right in!
Written by India Campbell-Hall