Your People Are Your Power Partner with Code Your Future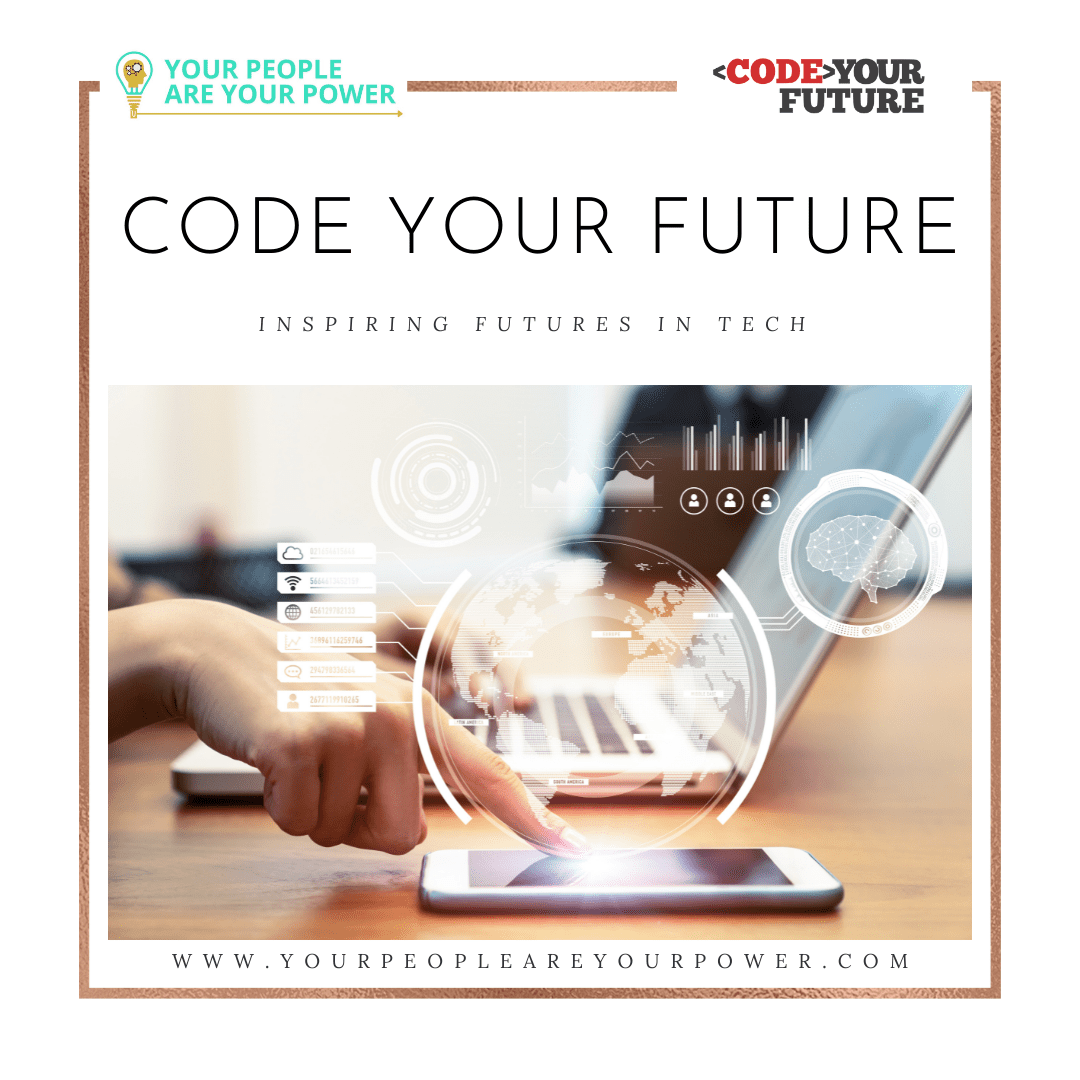 Company director, Gina Buckney, was delighted to host the Code Your Future event in encouraging their students to stay motivated in times of challenge or adversity. Code Your Future is an organisation that values giving everyone opportunities to thrive by equipping students with key life skills to enter the tech industry. The company is a non-profit organisation that trains people to become web developers, emphasising collaboration and product development through technology. Graduates from Code Your Future have found themselves working for the Financial Times, BBC, STV, Ticketmaster and start-ups like Adzuna, Sensible Object and WeGotPop. Code Your Future also hires graduates and has partnerships with Capgemini, the West Midlands, Amif and The Federation in The North West, Rome, The Honeycomb Works, Airtime and Slack. Code Your Future has Headquarters based in London, Manchester, Rome and Glasgow.
Gina quoted, 'I was delighted to present for such an incredible organisation. I started my career in tech, and it's opened so many doors for me. I have so many stories to share in this space; it was a no-brainer to me. During the presentation last night, I found this group of individuals like sponges, willing to learn and understand the keys to success. You couldn't ask for a better audience than that. Fully engaged and full of questions. It was my pleasure to present at this event'.
In an interview about how coding changes lives, Code Your Future commented that 'learning these tech skills can open many potential job opportunities and give everyone the absolute best chance of success. They care about modern workplaces and work environments. The refugee crisis in 2015 hit home hard for the Company Director of Code Your Future Germán; he knew he needed to come up with a better solution. Despite coming from strong academic backgrounds, many refugees find it difficult to find work outside of cleaning, sewing and repairs. Coding gives people skills that are highly sought after in the job market without spending years training. Germán wanted to question the social inequality and enjoys meeting new people and networking with individuals from different cultures and backgrounds.
Germán believes in accommodating employees from different backgrounds that Tech companies should be aware of the industry's biases and work to dismantle them to the best of their ability. Code Your Future values openness as well as transparency. Germán advises that 'It's so important that companies know exactly what kind of organisation that they want to be'. He encourages "soul-searching" for brainstorming where companies can improve and remove the obstacles needed to be as inclusive as possible.
Likewise, YPAYP we are passionate about giving back to the community; sharing is caring! YPAYP's Company Director, Gina Buckney, is a Motivational and Educational Speaker and Author of the Self-Help series, 'Journals For Life'. Gina has worked with Barclays, BT, HBOS PLC, Scottish Widows Bank, and British Telecoms. She has almost two decades of experience leading diverse teams in the technology and engineering industries. Gina also brings over a decade of experience in Mindfulness Meditation and cares deeply about workplace wellbeing.
Events that Code Your Future Offers
Code Your Future offers workshops, provides study and volunteer opportunities, so their students have the best chance for ultimate success in the tech employability market. Courses that Code Your Future offers are: The Intro To Coding Course, Fundamentals Course and the Full Stack Development Course.
More About Code Your Future Courses
Code Your Future also offers several different volunteering opportunities such as Personal Development, Ambassadors, Education and Tech Projects. Volunteers register, attend the welcome event, follow the short training session and move onto the Team Onboarding. Code Your Future Additionally Hires graduates who meet the following criteria:
Full-Stack tech skills required: HTML and CSS, JavaScript and OOP, React js, Node.js, MongoDB, Testing, asynchronous programming
Employability skills needed: Teamwork, Adaptability, Problem-solving, Communication and Continuous Learning Skills
Project delivery experience
YPAYP partnered with Code Your Future for an event on the 12th May, to help keep their students motivated during times of adversity and challenge, and Gina Buckney, shared her keynote presentation, 'Becoming the Champion in YOUR LIFE'. The response from the students was incredible.
Jimin George, stated he found the session, ' Inspiring and enlightening!'
Andrejs Kanins, fed back to Gina, 'I really loved the visualisation exercise that you walked us through. Thank you for that, it really motivated me to do better in life!'
Sharlu Rajendram, quoted on LinkedIn, 'Thank you so much Gina for the uplifting talk. It was much-needed. Power of visualisation would be one of my key takeaways from the session'.
YPAYP main service is in corporate wellbeing but they love to give back to the community and offer a number of motivational, and educational services available to support growth in the next generation.
More about YPAYP Staff Wellbeing and Coaching Programmes
Our website for more information about the exciting opportunities we have on offer for you and your team: www.yourpeopleareyourpower.com
Article written by India Campbell-Hall