YPAYP awarded Santander Project Placement Scholarships on behalf of The University of Chester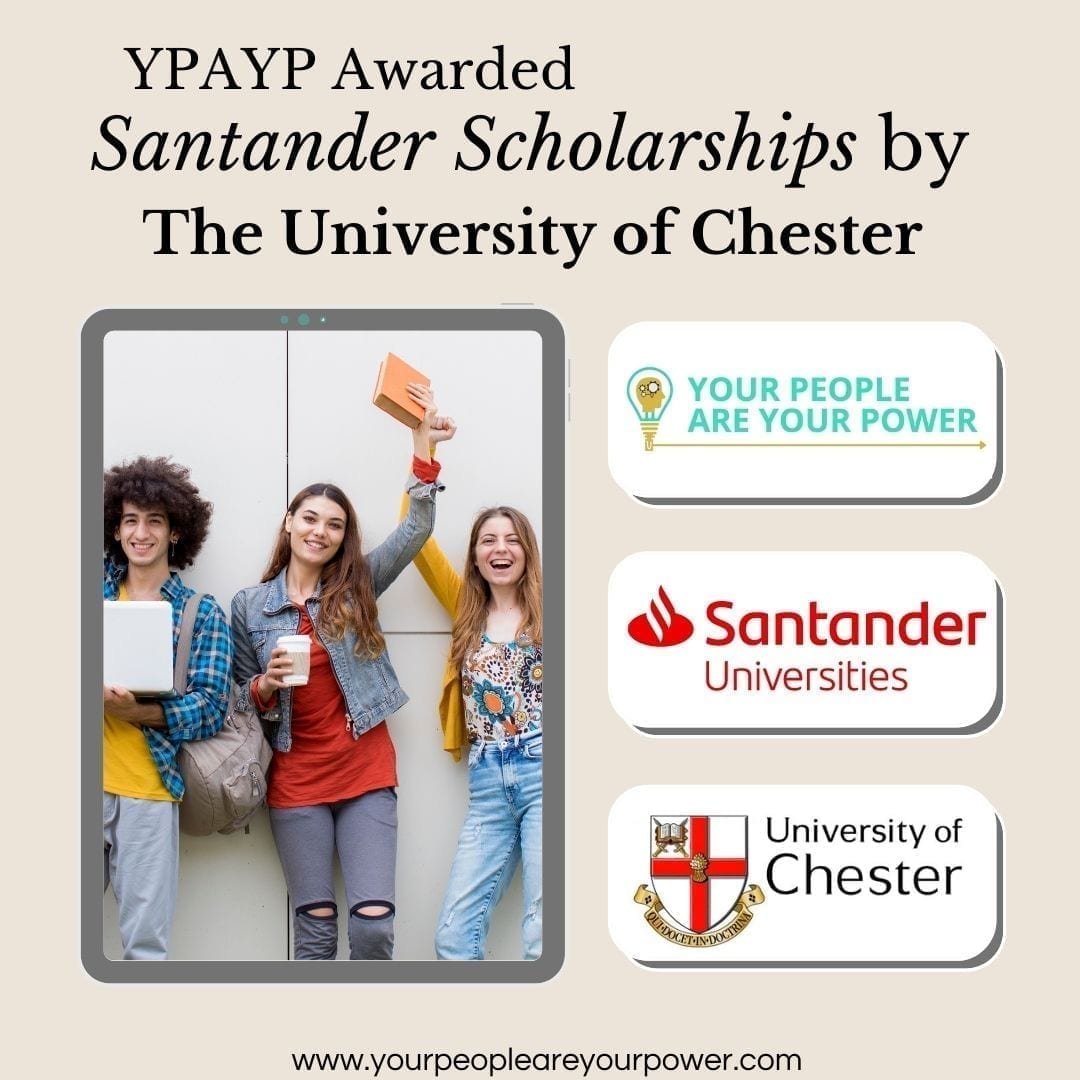 Following the successful work we have done with The University of Chester, which resulted in hiring students and graduates as part of the YPAYP Freelancer and Internship scheme, we are delighted to be awarded a number of Santander Project Placement Scholarships. The placements open up for application next week with commencement dates due in April 2021. Our Managing Director, Gina, is involved in an ongoing partnership with the Careers and Employability department at the University.
The application process is open to all current students and recent graduates. The successful applicants will be awarded with a £1000 scholarship.
The scholarship is a minimum of 70 hours and maximum of 108 hours, full-time (maximum 35 hours per week) or part-time options are available. Current students can work up to a maximum of 17.5 hours during term time, however they are able to work full-time during vacation periods. Graduates have no university-mandated restrictions on their working hours.
Late last year Gina, was chosen to be the headline/Keynote Speaker for the University of Chester's first-ever virtual careers fair – Careers Fest, which featured an Alumni Zone, a Digital Skills Zone, an Enterprise Zone, an Equality and Diversity Zone and a Sustainability Zone. During Careers Fest, Gina gave an engaging, live presentation, 'Becoming the Champion in Your Life', to motivate, inspire and help people discover how to become the best possible version of themselves. Gina has a number of keynote speaking topics, and has been featured in the press for her Motivational and Educational Speaking.
"We were honoured and delighted when Gina, as an alumna of the University of Chester, agreed to be our headline/keynote speaker at Careers Fest and her presentation 'Becoming the Champion in Your Life' was extremely inspirational, motivational and thought-provoking. Careers and Employability are looking forward to continuing our working relationship with Gina by offering her the opportunity to appoint our talented students via a Project Placement Scholarship to progress purposeful projects within her organisation, and we are extremely thankful to Santander Universities UK for providing the funding to enable Gina to do this". [Sally Harding, Employer Engagement Manager, The University of Chester]
In early 2021 we collaborated with Sally Harding, to advertise exciting freelancing vacancies for the roles of Creative Writers, Web Development Designers, Business Development and Social Media Content Creators. Federica Gambeli, our Team Delivery Lead, worked with Gina to organise a two-day assessment centre. Modelled on the assessment centre, Gina passed as a graduate for the Halifax Bank of Scotland (now Lloyds Banking Group) elite Fast Track Graduate Scheme, where successful applicants who had passed the CV and telephone interview stage had to showcase their skills by solving a business simulation exercise to solve a problem (think like BBC's Apprentice) and presenting their ideas to the group. The mock brief for the virtual assessment centre day tested applicant's ability to work as a team on day one, then on their own on day two before presenting back to showcase their work.
This was an incredible opportunity for all graduates, and students who took part, as it gave them real life experience of what will be expected when applying for graduate positions with top employers.
We love sharing knowledge and providing opportunities to the next generation, so following Gina's presentation, we hosted a competition for students and graduates who attended Careers Fest. The prize, a one hour coaching session with Gina, a copy one of Gina's Journals for Life, and a copy of her Seven Days of Happiness Guide. The winner of this prize was a very bright student, Ffion Simpson.
"I was so excited about the opportunity to have a coaching session with Gina; it helped me discover my next steps and gave me the motivation and tools I needed to move forward and work towards my goals".[Ffion Simpson – Students at The University of Chester]
Here at YPAYP, we are passionate about helping the next generation gain experience and develop in the working world. In return, we gain something money can't buy; the energy and excitement these future stars bring to the table!
"It was an honour to be the headline/keynote guest speaker for the University of Chester at their annual Careers and Employability event. The University is doing some incredible work for its students, and it was a delight to share my knowledge and experience with them. I am so grateful to the University for all the support they have given us at YPAYP and the graduates, students and freelancers who have contributed to moving this business forward. I am excited to see what the future holds with these new placements". [ Gina Buckney, MD, YPAYP].
If you are a student from The University of Chester and wish to apply, please review the guidelines, and contact the University for more information. Good luck.
Article Written by India Campbell-Hall.