YPAYP PARTNER WITH LEEDS UTC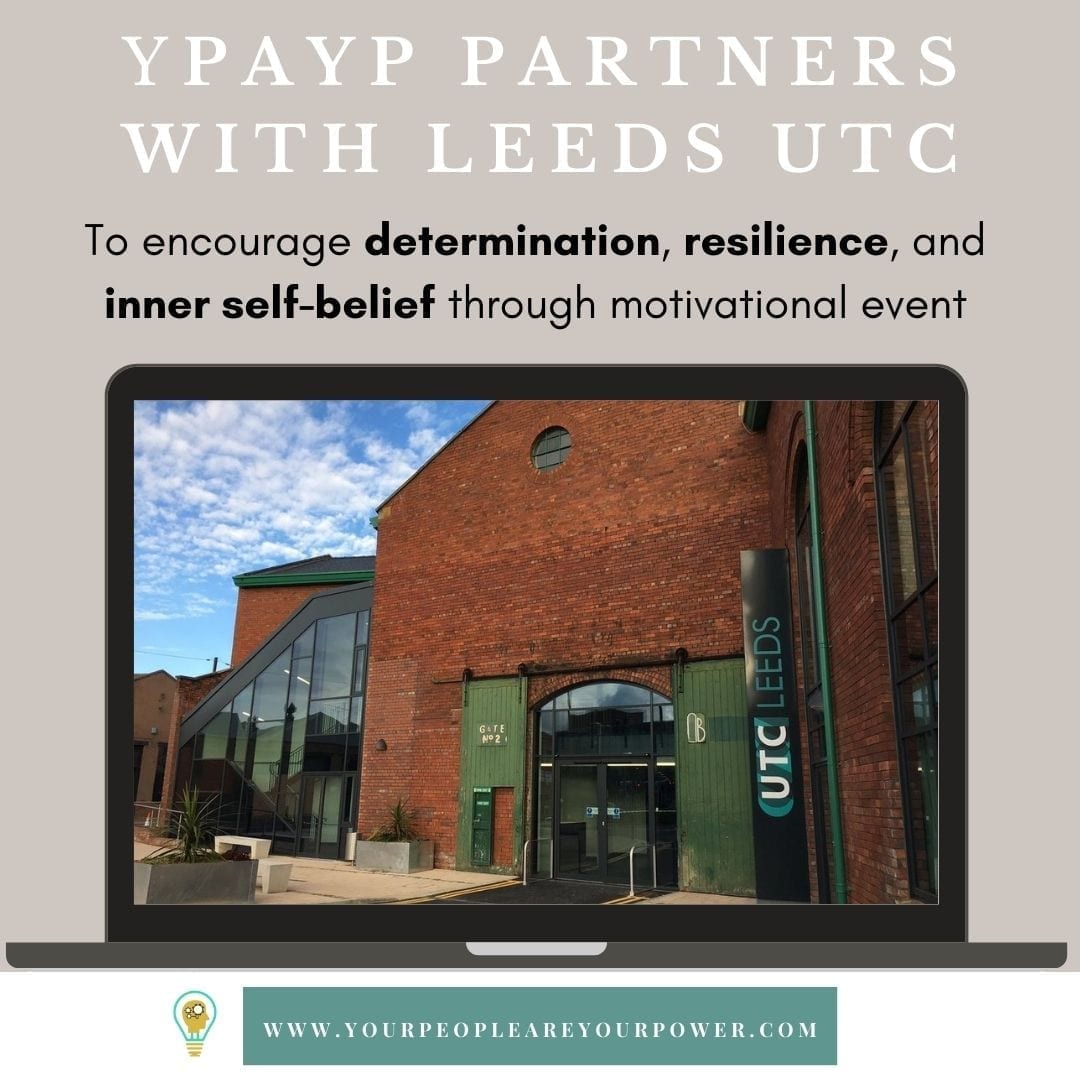 In times like these, we all need a boost of energy and inspiration, and here at YPAYP, we love to give back to the next generation, so our director Gina was determined to do just that, and where better than her 'home from home', the City of Leeds. As a woman with an Engineering and Technology background, she was keen to deliver a talk to an institution supporting these activities. Leeds University Technical College was the perfect place to start.
Why is it important to keep students motivated during these times?
Over the past 12 months students have been back and forth with the changing restrictions and this can affect stability and motivation. Students find themselves in unusual and challenging circumstances. During the lockdowns 15% cent remained on campus because of travel restrictions. 85% attempt to work remotely without access to familiar classroom-based learning or support from other students. Remote working for such long periods of time is new to a lot of students and surveys show that motivation can be significantly impacted.
Self-motivation is a skill that Gina's talks about at length and is a capability that students can use for the rest of their lives. Resilience and being able to deal with change is another key skill that will help the next generation navigate through future years to help them overcome unforeseen challenges that arise, such as the Pandemic.
Who is Leeds UTC?
The University of Leeds is a key sponsor of Leeds UTC. The faculty of Engineering at the University is in the top 100 in the world for engineering and technology and technology according to the Times Higher Education World University Rankings 2018. Leeds' only University Technical College offers employer-led academic and technical learning, focusing on engineering and advanced technology.
"Innovation is something we pride ourselves on at the UTC, anyone who has visited the campus would see that we are leading-edge, and we are always looking for new ways to give our students the edge. We understand that the lockdowns have been challenging for our students, so it's our responsibility to keep students motivated and focus on the positives". [Jane Fitzpatrick, University Coordinator]
We partnered with Jane to arrange the delivery of Gina's keynote speaking presentation, "Become the Champion In Your Life." Gina delivered a compelling, interactive session with the students, leaving them feeling inspired, full of thoughts about their dream jobs and future lifestyle. During the session Gina demonstrated some practical applications of visualisation, a technique used by top athletes. Gina, was personally taught this technique very early on in her career by someone she looks to as a mentor, Frank Dick, OBE, Ex Olympic Athletic Coach, and current President of the European Athletics Association.
"Focus on what you want and go for it. You can be anything you want to be, and don't let any circumstance hold you back. There is always a solution to every problem" – GINA BUCKNEY, MD, YPAYP.
If you are a University looking to motivate your student body, get in touch with our team today to discuss how we can help.
Article written by India Campbell-Hall.