How To Achieve the Four P's Through Mindfulness and Meditation Practice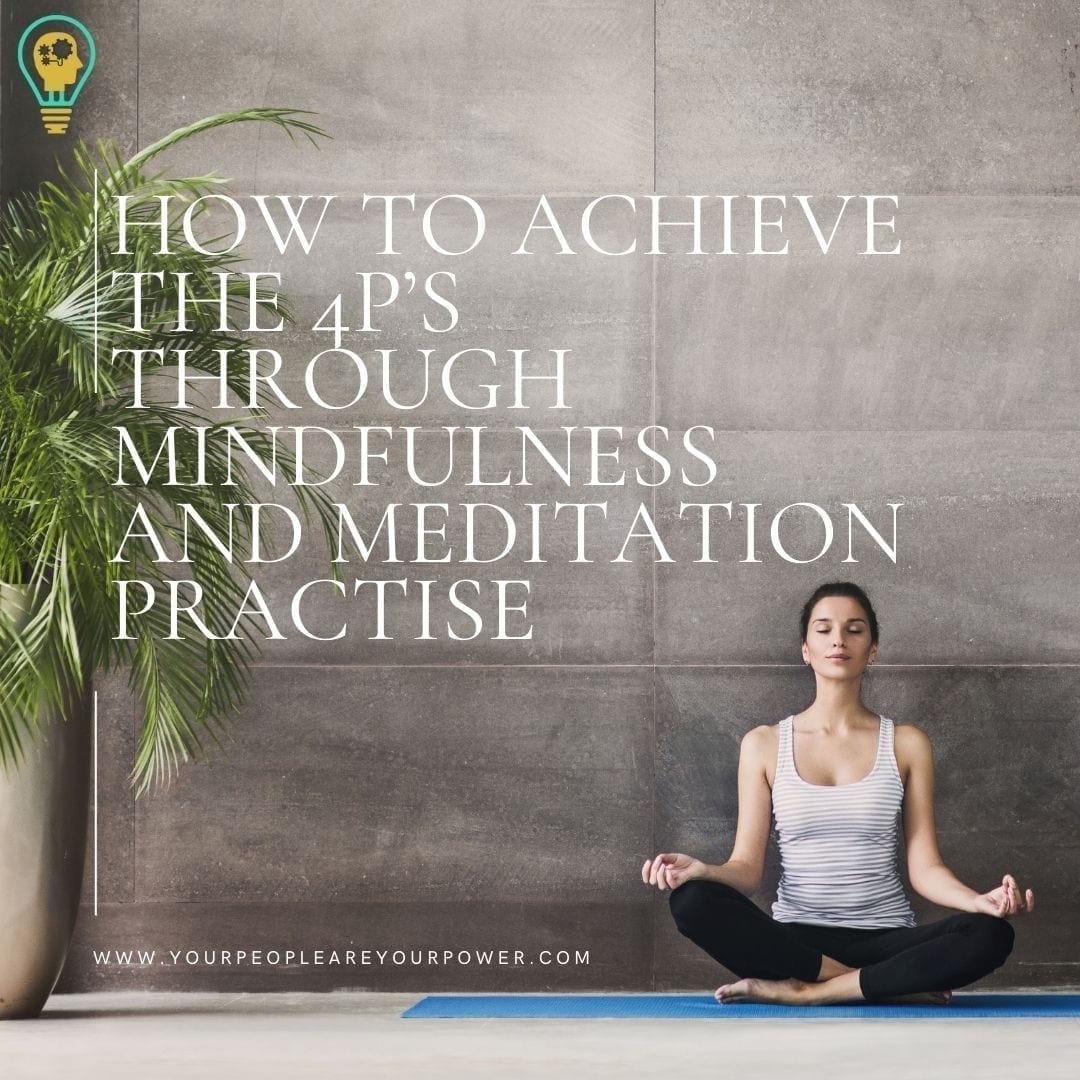 How to achieve the 4P's through Mindfulness and Meditation practice
Workplace Performance and Wellbeing Experts at Your People Power (YPP) promote the '4P'S', consisting of Positivity, Prosperity, Peace and Productivity. To achieve the 4P's, the team encourages the importance of Mindfulness, Meditation and self-care, as they are integral to achieve a happy life. Integrating a Mindfulness and Meditation practice into your daily lifestyle will have an affirming and life-changing impact on your work environment, social life, and wellbeing. 
Positivity
It's all about the mindset. A proactive and resilient mind comes along with adding Positivity to your life. A Mindfulness and Meditation practice can create an enhanced sense of Positive Psychology. Vago & Silbersweig suggest the 'close ties between mindfulness and Positive Psychology make sense when you consider the outcomes of Mindfulness: increased positivity, a greater sense of coherence, better quality of life, more empathy, more satisfying relationships, and greater hope'. By obtaining a positive mindset through Mindfulness can help you manifest the things you want in your life by deflecting your negative thoughts.
Practising Mindfulness can enhance your self-awareness; as Seear & Vella-Brodrick argue: 'strong evidence coming out recently demonstrates that mindfulness is significantly correlated with positive affect, life satisfaction, and overall wellbeing'. Just a 10-minute practice can increase your sense of wellbeing; as you're looking after your mental health, it will improve your physical health through your positive mindset also. Living in the present moment and being reflective can be highly transformative.
Prosperity
A Mindfulness and Meditation practice can also affect your Prosperity, as it changes how you think about yourself and your life opportunities. Chiesa & Sieretti suggests: 'studies examined the prefrontal cortex, the part of the brain associated with both impulse control and maturity. This part of the brain tended to become more active following mindfulness training'. Integrating Mindfulness and Mediation helps to relax and calm your thoughts, making you more proactive in your thinking. The results of the study, 'Contemplating Mindfulness at Work', has found Mindfulness can improve workplace functioning. It suggests, it can 'improve the quality of attention, impact interpersonal behaviour, and provide greater empathy and compassion for others. From these results, Mindfulness can help provide a more prosperous life, especially in terms of work, as incorporating its effects into the workplace can help you become more successful with colleagues and the workplace overall.
James Nussbaumer highlights the term 'Prosperity Meditation' in which it: 'assists significantly with the art of destination and yielding your goals for success and life'. The practice of Meditation and imagining your dreams and goals helps to create a prosperous life, creating self-affirming and attainable goals that will make your ambitions more attainable. James Nussbaumer also comments: 'Positive Meditation brings forth inner energy to the material world'. By focusing on these attainable ambitions in your life, you can increase the chances of obtaining them.
Peace
It is well-known that a Mindfulness and Meditation practice can help to bring more inner peace within. But how does it really happen? Teachings of the Buddha suggests: 'Mindfulness is the state of being in the here and now. This allows peace and tranquillity in your heart and soul'. To achieve the peaceful traits that Mindfulness can create within you can be internal and external. Internally, creating Inner Peace can have a positive effect on your external lives and wellbeing. The practise of Mindfulness also means educating yourself on the rituals and customs that come with it, which will help create inner peace and a beneficial routine within your environment. The Teachings of The Buddha further comments: 'we do not live in virtue because we are told to do so, but because we experience that doing so brings about peace'. Changing our mindset through our Mindfulness practice creates peace both in the short and long term. Inner peace allows for decreasing stress levels, which will have a positive long-term effect on your physical and mental health.
Productivity
Productivity can become the by-product of Positivity, becoming Prosperous and finding peace. Being more productive through Mindfulness and Meditation isn't what you might expect, but your productivity levels can be positively boosted by enhancing your Positivity and Inner Peace. Especially within the workplace, studies have shown that 'Mindfulness training improves our ability to orient attention and be less distracted[…]which allows us to finish a task more quickly and more accurately. Completing tasks more positively and without distractions can help not just the productivity of individuals but also the team. Mindfulness training helps us be proactive in our thoughts and feelings, allowing us to make better decisions. This bolsters our productivity in decision-making tasks specifically and lets us judge what really matters.
The 4P's can be achieved through a Mindfulness and Meditation practice. In the current climate, when workplaces are opening up again, it is important to maintain the 4P's. Incorporating the practice of Mindfulness and Meditation into your lifestyle relieves the stress of the 'new element' of work and the workplace. Using a Mindfulness and Meditation practice, Your People Power shows how it can entirely change employee's mindsets and lifestyle. Positivity, Prosperity, Peace and Productivity are the consequences of its routine, which to employees and employers can increase overall wellbeing inside and outside of the workplace.
If you would like to start your mindfulness and meditation practice today, then why not try Mindful Journaling with our very own Mindfulness Champion, Gina Buckney, the benefits are endless.
If your organisation is looking for employee wellbeing support, email the team at Your People Power today, or click here for contact details.
Written by Rose Evans