The UK's £92 Billion Productivity Loss!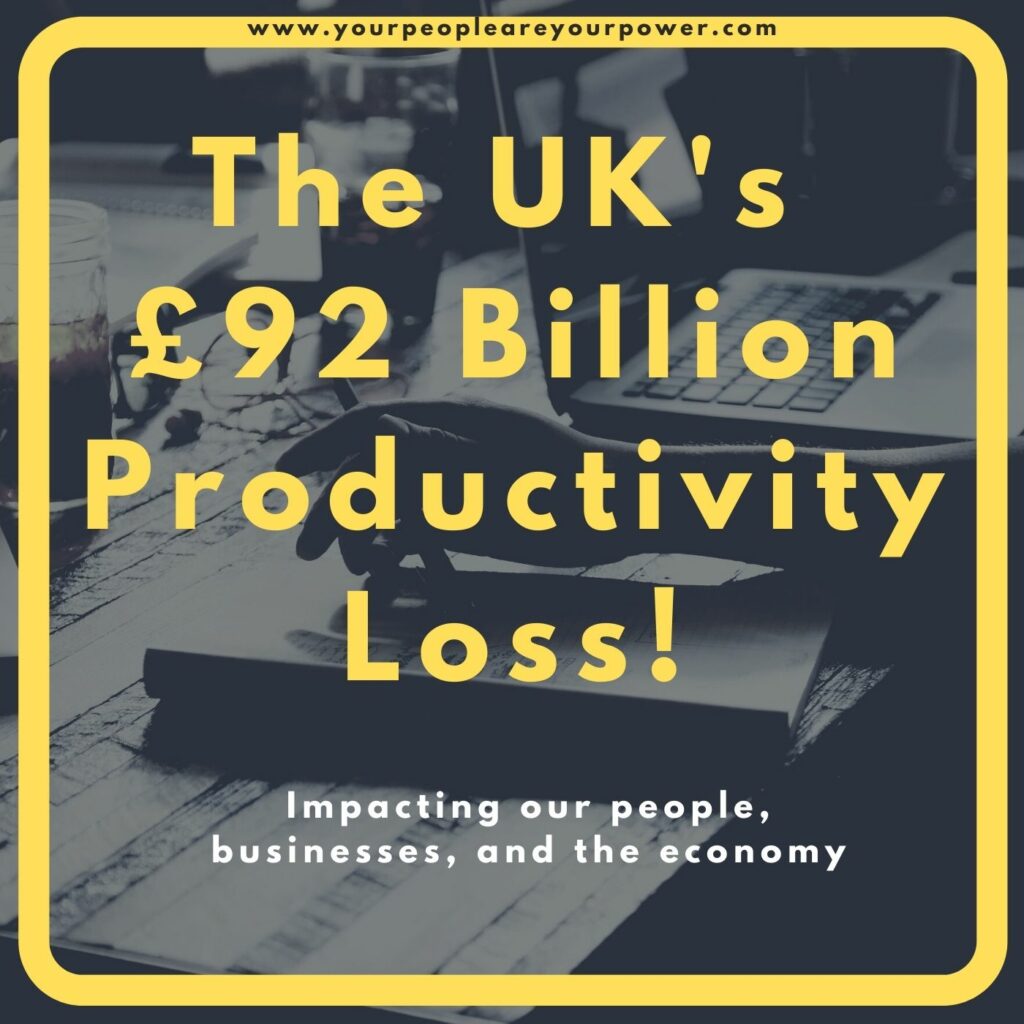 IMAGINE YOUR ORGANISATION LOSING ALMOST 40 WORKING DAYS PER EMPLOYEE/PER ANNUM? You don't have to imagine because THIS IS HAPPENING and it costs the UK economy £92B!
Latest stats show £91.9 billion (to be exact) lost due to ill-health-related absence and presenteeism in the workplace. British businesses lost an average of 38 working days per employee to physical and mental health-related absence and presenteeism. This latest analysis is from Vitality 2019 stats, so we can only wonder what the increase was in 2020 (stats not released yet). One thing is clear; PRODUCTIVITY IS ON THE DECLINE! – 2014 survey data showed only 23 working days were lost per employee.
THE STRESS SPREAD
Over the last 6 years the cost of stress has continued to rise year on year. Stress spreads like wildfire across organisations. As more and more people go off sick, their workload, targets, pressure is passed to the remaining employees. The stress passes on, and so on. For most of you reading this, you will have already seen this happen. It's not going away; it's growing at a rapid rate; we must reverse the trend.
Is your organisation taking action? Are YOU taking action?
We all need to take personal accountability to protect ourselves, our people, our businesses, and the economy; if we don't, we are going to find our economy in disarray. Unhealthy working practices and environments must change. Cultures must change. How we work must change. We cannot continue to work longer and longer hours to get the job done. It's creating excessive burnout in people, which some may never fully recover. It's time to work smarter, not harder; there is a different way to increase our productivity, and we have the science to back it up. 
Trailblazing organisations are already benefiting from these new ways of working. But, unfortunately, most other organisations treat their people like they do their systems. Disposable. They run IT systems until they are 'end of life, and we are seeing this happening to people too, but we cannot run people to breaking point; we are human, not machines. If organisations continue to do that, they will see the 'Jenga effect' come into play, and eventually, the organisation will come crashing down. The people are the infrastructure of any organisation.
Take action today to understand this issue – contact us on info@yourpeopleareyourpower.com.