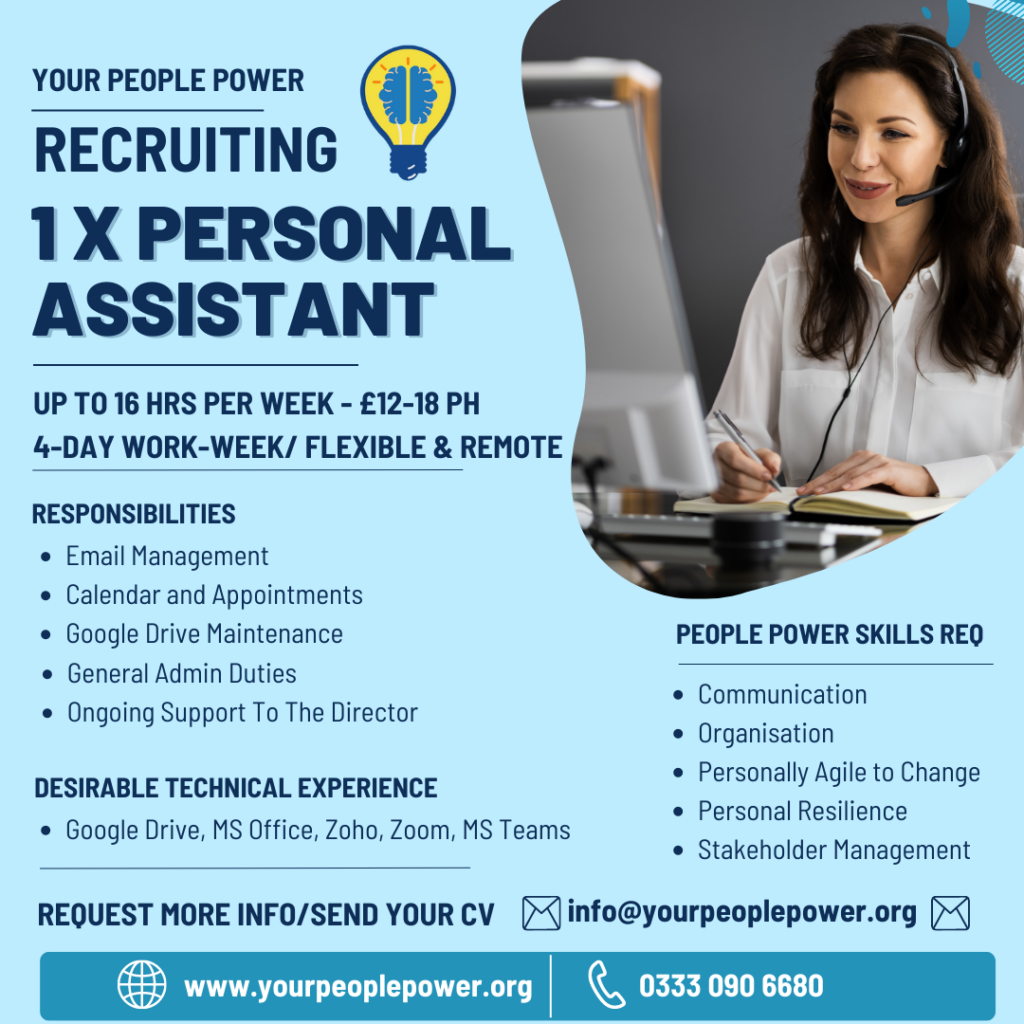 FOR IMMEDIATE RELEASE
Your People Power is Recruiting a Personal Assistant to Join the Team!
Your People Power is pleased to announce that we are currently recruiting a Personal Assistant to join our growing team. This is an exciting opportunity to work with a performance and wellbeing organisation that is dedicated to empowering individuals and organisations to reach their full potential.
As a Personal Assistant at Your People Power, you will play a critical role in supporting the Director, Gina Buckney, and the wider team. Your primary responsibilities will include managing the team diary, arranging meetings and events, booking travel, and providing general administrative support.
We are looking for someone who is proactive, organised, and can work well under pressure. You should have excellent communication and interpersonal skills, as well as a positive and can-do attitude. The ideal candidate will be self-motivated, detail-oriented, and able to manage multiple tasks simultaneously.
In addition to these qualities, the ideal candidate will also have experience working with various software and tools, such as Google Drive, MS Office, Zoho, Zoom, and MS Teams. You should be comfortable using these tools to facilitate communication and collaboration with team members and external stakeholders.
Furthermore, personal power skills are essential for success in this role. Personal resilience, personal agility to change, communication, stakeholder management, and organisation are all critical skills that the ideal candidate will possess. You should be able to navigate complex situations with ease and demonstrate a high level of emotional intelligence.
The hours of working for this position will be flexible and remote, with between 6-16 hours per week across a 4-day workweek. The hourly rate will be between £12-18 depending on experience.
At Your People Power, we are committed to providing a supportive and inclusive work environment where all team members can thrive. We believe in empowering our employees and investing in their personal and professional development.
If you are looking for an exciting new challenge and want to be part of a dynamic and innovative team, we would love to hear from you. To apply for the Personal Assistant position, please submit your CV and cover letter to us.
About Your People Power:
Your People Power is a performance and wellbeing organisation that provides coaching, training, and consultancy services to individuals and organisations. Our mission is to help people realise their full potential by equipping them with the tools and knowledge they need to thrive in today's fast-paced and ever-changing world. We believe that everyone has the power to achieve their goals and make a positive impact on the world, and we are here to help them do just that. We are recruiting a personal assistant to take the load off our Director, so the successful candidate will be greatly received and welcomed into our team.
Contact:
Email: info@yourpeoplepower.org
Title : Recruiting a personal assistant – FAO Recruitment Team
Phone: 0333 090 6680
Closing Date :
Wednesday 31st May, 2023.